Just looking for Dr. Jones' Inner Circle? Click here!
"FREE DVD:
Learn Natural Remedies And Effective
Techniques For Healing Your Pet At Home"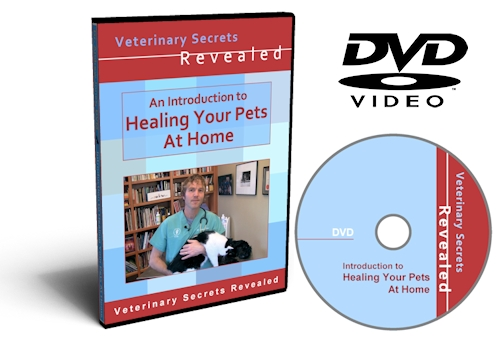 Dr. Jones' Healing Your Pets At Home DVD:
90 Minute DVD Video on How To Examine, Diagnose and Treat Your Pet's Health Problems At Home

Dr. Andrew Jones, DVM
Sep 22, 2020
Dear fellow pet lover,
Have you made any changes to the way you are providing health care for your dog or cat?
If you have yet to do so, then I urge you to read my letter...
Your beloved pet could be at risk of Cancer, Auto-immune Disorders, Seizures... or a host of illnesses in our pets that were once considered rare.
Here is how I know...
My name is Dr Andrew Jones.
I have been a dog and cat Veterinarian for almost 20 years. I am the founder of a charitable society "The Second Chance Animal Shelter", and I have studied and published extensively on Alternative Veterinary Care.
I have spent thousands of hours exploring ways for pet owners to administer first aid, improve behavior problems, and even treat illnesses using readily available household products.
My book was first published on-line, in digital (e-book) format, in May of 2004. The book is called "Veterinary Secrets Revealed".
I publish a daily newsletter called 'Veterinary Secrets', I have authored countless pet health articles (just Google my name, Dr. Andrew Jones DVM), along with numerous digital books, over 40 how-to videos on alternative pet health care, conducted expert interviews, and held dozens of online seminars.
I have created the first ever Alternative Pet Health Home Study Course for pet owners called the Veterinary Secrets Revealed Complete Home Study Multimedia Course.

But I didn't always
believe in "Alternative" Veterinary Care...
I practiced strictly conventional veterinary medicine, until something very tragic happened...
My dog died young, only 8-years old. He was a specimen of health, given a ton of attention, exercised three times a day, fed only veterinary food, given all his vaccines...
I asked myself... why?
I thought that he was incredibly healthy.
He didn't seem to feeling very good one day, so I did a blood test on him thinking he had a tooth infection. I quickly found out that he had a spleen tumor in an advanced stage.
I performed surgery on my own dog, removing the spleen tumor. But, it had spread to the liver, and I knew that he only had a short while to live.
How did an apparently healthy
mixed breed dog die so young?
I did all the "right" things - or so I thought. After grieving, I came to realize that I may have contributed to his death, because I believed only in conventional veterinary medicine.
It was very tough to acknowledge that I had played a role in him dying at too young of an age.
I came to question exactly what I did to my own pet - and what was I doing to other people's pets.
I came to realize that I and most other Veterinarians were not "getting it" - that in the process of trying to heal pets through technological advances, we were actually making them sicker!
There are
3 mistakes
that I made
that
contributed to Hoochie's early death...
...are you making these same mistakes?
Mistake #1: Vaccines - Given Every Year
I gave Hoochie his combination of vaccines every year until he died. I advised pet owners to vaccinate their pets yearly, so I gave my own dog the same vaccines. The vaccines likely contributed to him developing spleen cancer.
"Recent vaccinations with single or combination modified live virus (MLV) vaccines are increasingly recognized contributors to immune-mediated blood diseases, bone marrow failure, organ dysfunction and cancer."

Dr. Jean Dodds, one of the world's foremost experts in canine vaccine reactions.
Mistake #2: Diet - He Was Fed An All-In-One "Complete" Veterinary Food
Hoochie was fed a Veterinary approved food exclusively, yet he developed Spleen cancer at the age of 8, and died shortly after. The "Bright Minds" in the pet food industry have created unwell pets, producing increasing incidences of diabetes, cancer and allergies.
The food that Hoochie ate was NOT naturally preserved. The unnatural preservatives played a role in the cancer.
"BHA and BHT are known to cause liver and kidney dysfunction and are banned in some European countries. Ethoxyquin is suspected of causing cancer, and that propylene glycol, another common pet food ingredient, causes the destruction of red blood cells."

Dr. Wendell O. Belfield, author of 'How to Have a Healthier Dog'.
Mistake #3: Conventional Medication - He Was On Anti-Inflammatories
Hoochie was showing signs of arthritis, so I had been giving him a conventional veterinary medication. He responded to the medication, but it likely played a role in damaging his organs, making him susceptible to cancer.
These are also known as Non Steroidal Anti-inflammatories or NSAIDs. Here is what Dr Stephen Sundlof of the Food and Drug Administration (FDA) has to say about them...
NSAIDs carry a risk of side effects, or adverse reactions. Most adverse reactions are mild, but some may be serious, especially if the drugs are not used according to labeled directions. Some reactions result in permanent damage or even death.

"It's important for pet owners to be aware of the risks and benefits of all drugs, including NSAIDs, so that they can make informed decisions about their pets' health care," says Sundlof. "Owners who give their dog NSAIDs need to know the side effects to watch for that indicate their pet needs medical attention."

The most common side effects from NSAIDs include vomiting, loss of appetite, depression, lethargy, and diarrhea. Serious side effects include gastrointestinal bleeding, ulcers, perforations, kidney damage, and liver problems.

Stephen F. Sundlof, D.V.M., Ph.D., Director of the Food and Drug Administration's Center for Veterinary Medicine (CVM).
A very popular NSAID is Rimadyl. It has resulted in all the above reported side-effects, including death. In fact it was first created as a human anti-inflammatory product, but due to the incidence of serious liver side effects in clinical trials, it was pulled from the human market. The drug company, Pfizer, then brought it back to life in the pet industry.
It has caused a huge number of serious side effects in pets, including death. Here is what Chris Adams of the Wall Street Journal had to say...
Since Rimadyl's 1997 launch, the FDA has received reports of about 1,000 dogs that died or were put to sleep and 7,000 more that had bad reactions after taking the drug, records and official estimates indicate. The FDA says such events are significantly underreported.

Chris Adams, Wall Street Journal
"Yes,
I as a knowledgeable veterinarian
with 15 years of experience,
contributed to my pet's death
."
I truly believe that those were the 3 biggest factors in Hoochie getting cancer. NO, I can't prove it, as many of my colleagues like to say... but I have some pretty strong beliefs. Especially based on what I have seen with THOUSANDS of dogs and cats in Veterinary practice.

The Dog and Cat Health Crisis
During my almost 20 years of practice, I noticed 2 new trends that are frankly downright disturbing...
It seems that every single year I was asked to treat more and more pets for cancer, allergies, a lot more skin and gum disease, arthritis, kidney problems... and especially auto-immune diseases - diseases in which your pet's own immune system turns on them and begins attacking their healthy blood and skin.
It seems that on average, the dogs and cats that were being brought to me for serious diseases such as cancer an immune system disorders are much, much younger than ever before.
But don't just take my word for it. Here is what Dr. Michael Dym has to say.
The words of another respected Alternative Veterinary Practitioner...
Dr. Michael Dym, DVM: "Over the past 40 years and 17 generations of dogs and, cats we are seeing tremendous increases in chronic ill health in our pets that was rare back in the early 1960's. Most of these illnesses revolve around breakdown in our pets' immune systems, and include chronic skin/ear allergies, digestive upset, thyroid/adrenal/pancreatic disorders, seizures, gum/ teeth problems, degenerative arthritis, kidney/liver failure, and cancer across all ages and breeds.
We are also seeing a record number of behavioral and emotional disorders including alarming and unexplained fears/aggression, as well as difficulty focusing/training and paying attention. The two biggest factors in our pets' population health decline over these generations has been the severe overuse of multiple vaccines and nutrient poor and toxin filled commercial pet foods. We have also failed to address the underlying cause of disease by only suppressing symptoms with antibiotics, cortisone and related drugs, so the disease progresses and goes deeper."
So what can you do?
Well, it's up to YOU.
By the simple fact that you are reading this right now, I can tell that you have already made a commitment to your best friend to keep him or her healthy... and I commend you for that.
Now, I'd like to show you the fastest, easiest, and most effective way to do it:
Take charge of your pet's health.
Don't just let others make decisions for you.
I truly believe that you can
really make a difference in the life of your dog or cat
by becoming an EMPOWERED pet owner.
And this is where I come in:

I'd like to help you become an empowered pet owner.
How?

Well, I'd like to GIVE YOU A FREE DVD: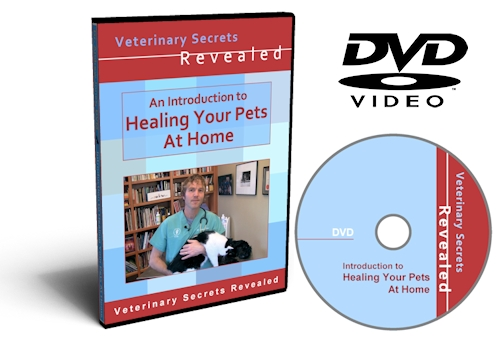 Dr Jones' Introduction to
Healing Your Pets At Home
- 90 Minute DVD -

A $97.00 VALUE
On this FREE DVD, you'll learn the fundamentals of holistic dog and cat home health care. In the video, I demonstrate and discuss the most important aspects of at-home pet healing.
The Video is a great way to learn how to start treating your pets at home with alternative healing modalities and methods.
Healing Your Pets At Home DVD Includes:
Background and discussion of the extensive Benefits of Home Pet Health Care - why YOU should start right away
Healing the Natural Way: how this can be better for your dog or cat
Basics of how to Care for your Sick Pet At Home
How and where to start at-home Healing, first steps you need to take
The At-Home Pet Health Exam - full how-to demonstration:

Where to perform
How to start
What areas you should focus on, and what to look for

Extensive discussion and demonstration of the most important at-home healing Modalities, including:

Nutraceuticals

Scientific Studies backing effectiveness
MOST IMPORTANT Nutraceuticals to give
How and when to use

Herbal Healing

Background and scientific studies
Safety precautions - important points to keep in mind
Best forms of Herbs to use
How to use and apply herbal remedies
Using Herbs for allergies and other diseases

Homeopathy

Theory and background
How to properly handle and give homeopathic remedies
Homeopathic remedies for injuries/shock, digestive issues, and more

Acupressure

Background and explanation
Scientific studies proving effectiveness
Basic application, proper technique
Charts of main Acupressure points for dogs and cats
Demonstration of 5 specific Acupressure points, for seizures, joint pain and arthritis, general health and wellness, and hip dysplasia

Pet Massage

Benefits of Massage, with scientific studies
Specific Pet Massage techniques - how to apply them and what health issues to use them for
Demonstration of therapeutic pet massage for back arthritis
Get This FREE DVD TODAY And
Help Your Dog or Cat Live Longer,
Avoid Cancer And Other Diseases,
And Enjoy A Healthier, Happier Life...
I KNOW my DVD will help you - because I've already helped THOUSANDS of pet owners just like you take better care of their pets, with my books, my course, and my videos.
Read some of the fantastic comments I've received from happy clients:
"Everyone who is a guardian to an animal needs your book. It is filled with the information that other vets either don't know or refuse to use because a lot of it is common sense combined with NATURAL alternatives that work without causing additional financial hardships."

Laura Lluellyn-Lassiter, Florida
"Dear Dr. Jones,
Your excellent advice and information literally saved our 15 year old Cocker Spaniel and we thank you from the bottom of our hearts.
She is like a new dog, like she was 5 years ago. It is so wonderful to see, especially when we thought the end was already here.
Before putting her on an organic whole food diet and giving her proper supplements she could barely walk, could no longer use the doggie door, and did not have the hip and leg strength to hold herself in position to pee and poop. We had to have someone with her all day and wipe her bottom.
She was so weak, shaking, and we so concerned about her. Our local vet only had steroids and really nothing else.
Once we put her on supplements (Glucosamine/Chondroitin, Silymarin, Wobenzyme) in only 3 days we saw a huge improvement. She was walking better, began using the doggie door, and had much more energy.
She has steadily improved over the past 3 wks and now she is as if 5 years younger and we can not tell you how happy we are, and so is she being back to her healthy self again.
This week we put her on a proper dog food (Innova) and have already seen vast improvements in her and our other dog (Great Dane). They are looking better, have great energy again, and enjoying their canine life; and they absolutely love the food.
The time has come for people to realize the horrible cost of drug based therapies that don't work. Much like the Allopathic model is a failure in most cases, so his the same model applied to veterinary medicine.
It has a role indeed, trauma, surgery, and some select treatment protocols the Allopath can be of great service.
But not as a rule, and not for just about everything we seek the help from a vet for.
You are providing an invaluable service and public education and we thank you ever so much for your courage and willingness to speak the truth out loud.
In gratitude,"
"I would like to thank you for the course which we purchased from you a while ago. We were running to the vet practically every month for something.

Since receiving your course, we have not been to the vet once. He probably thinks we have switched vets. We have visited a holistic/homeopathic pet store where we now buy our food, treats and remedies for allergies. Also, I am bathing our little bichon, Molly, at least once a week and combing her right to the skin daily. She is much better. She was also being treated with steroids for her severe itching, but we are now in the process of ridding her body of all those nasty toxins with natural remedies. I am also treating our poodle's chronic ear problem with a cleansing herbal ear wash and it's amazing how her ears have cleared up without all of the expensive vet ear drops (which I found out also contain steroids!)

Every person with a dog in their family should have your course. It is a common sense approach to caring for our beloved family members. The kindest thing we can do for our pets is to learn how to look after them at home and learn how to recognize the first signs of something being amiss. Your course does just that.

Thank you so much."

Carol Johnston, Kitchener Ontario, Canada
"I shall thoroughly enjoy reading your book. It is down to earth and is written in such a clear and precise way that I know if the need should arise I can help my pet. I have a six month old Dobie, who is very aggressive, and insists on trying to be Alpha. But after reading your chapter on aggression everything changed!!
Thank you so much for writing such a comprehesive medical guide. I can see that you have put a lot of care and thought into not only the content, but the layout as well. It is very well thought out and user friendly. I will be recommending this to everyone I can.
Thank you again Dr Jones for a very informative book!! "

"Hello Andrew,
I just like to say that after nearly a year of idiopathic cystitis, I really felt it was time for him to go to the cattery in the sky. I was very sad and took him home from the vet for a weekend at home. The vet advised me that Archie would need an operation to survive.
I felt I would try one last thing - after reading your book - and that was to stop giving him cat biscuits as they are so highly concentrated and Archie didn't drink enough water with them. It was like a miracle - he has been well ever since and is eating well and looks like his old self.
Many thanks for your help!"

"I really like this course. It's the best thing I have bought for the benefit of my pets.

I'm really pleased I bought it. Thank you for making it available to all pet owners. I think we are entitled to know the basics of really caring for our pets, and you have enabled us to do just that.
Having this information could save our pets lives because you tell us how to deal with a pet which collapses for no apparent reason, how to deal with broken bones, bleeding, etc.

This is invaluable information for all pet owners."

Lenise, UK
"Dear Dr. Jones,
I have read your book and I am better prepared to handle an emergency with my Dog "Annie". I know how to do CPR on a dog and how to do the Heimlich Maneuver, etc. She is 7 and has arthritis in her left rear leg, probably in the knee. I am going to treat her now with your alternative treatment.
I can't tell you how much I appreciate having this reference book. I recommend it to every pet owner. It's a must have.
Let me know if there is anything I can do to help you with your "problem" with the association. Thank you."

"Hello Dr. Jones,

Wonderful Vet, lucky dog, unbelievable tool: PET FIRST AID SECRETS. Had a Golden Retriever run over by a wild sow yesterday. No blood, not far from home.
Carried her home with the help of some people. Put her on the couch, had somebody watch her, got the book (now its placed in the living room), shock treatment, rescue drops, arnica from the inside. Fortunately nothing broken, a swollen right shoulder (X-ray confirmed today). With the help of your book I was able to overcome the symptom of paralysis.

Thank you,"

Christine Schulze-Leistikow, Berlin, Germany
"I have found your holistic advice very informative and helpful. Although my dog is only 3 years old and in good health, it's good to learn that there are safer and cheaper ways to treat her should she develop a health problem. Your information is especially helpful in proactive ways to keep my pet healthy in avoiding future problems from arising.

Thank you."
"Dr. Jones,

I have found many things very informative in this book. My cats respond very well to the marine fish oil, I feel I am giving them the best thing for their health, and my cat with eye infections completely healed after using the black tea and it was soothing and she didn't mind being treated."
"I love my entire collection of vet secrets and have found many many things there that even I, a 24 year "veteran" of raising Aussies, didn't know. And the first aid book is awesome...so much info right at my fingertips! BLESS YOU Dr. Andrew for all you do...keep up the great work and don't let those other know-nothing vets put you down, as my friends from the deep south of the US would say "they need a can 'o whoop-ass showered on them"!

Aussies Always... "

Jeni Gallichan, Mikatura Stockdogs: www.mikatura.com, Alberta
"I found your Ebook 'Veterinary Secrets Revealed' online last year. I got your email minicourse first and, though I already knew some of the remedies, I only knew a few. Due to several health problems of my own, I take a number of medications. I'm usually very careful but once in awhile a pill drops on the floor and then I'm off on a mad journeys to find it. I finally called in a sighted person to help but the pill was simply not to be found. Then I had a moment of panic. The pill was a diabetes med which I knew, if he'd ingested it, would play havoc with his blood sugar and could lead to serious consequences. But since I knew from your course and Ebook how to induce vomiting with hydrogen peroxide, I gave him a spoonful as instructed and waited 15 minutes with him outside. (Thank goodness it was a beautiful day so waiting was no discomfort for either of us. After he had not vomited, I gave another round of the hp and it started. Being a fairly anxious person and since, after all, this dog was my eyes, I got him to the vet as quickly as possible. The vet, who I knew to be open-minded though not very knowledgeable about alternative remedies, told me he was impressed at how well I handled things. He did some tests and kept my dog overnight and I'm not sure exactly what else he did but my guide dog was great the next day.
Now I recommend your book to everyone I come into contact with
at the rescue agency for which I volunteer (I process applications, do adoption interviews and owner surrenders, take my turn on the hotline etc. It is gratifying to know that if a caller calls about a health concern I can suggest alternative remedies to use either until they get to their vets or sometimes so they won't have to go at all. My dream is to get all of this vital information into the hands of the people who adopt our dogs as well as other pet adoptees and I would love to have all of the guide dog schools and organizations give these materials to every student. I wish I'd had this information a few years ago when my then guide was diagnosed with cancer, given unsuccessful surgery (twice) and even then they didn't get it all.) Maybe I could have done something to help the cancer go away or maybe I could have prevented it in the first place. My last guide had terrible allergies. I had him tested and, for awhile, did the allergy shot thing. After a year and a half, I stopped the shots. They just weren't working. I felt so bad for him with the constant itching and scratching no matter what shampoo he was bathed with and then they found out he had a food allergy. So I switched him to a premium lamb and rice formula. The food I was using was not on the recall list so I was grateful for that. I am considering cooking for the dog myself when my next one arrives.
Thank you again for your most practical and useful book and for all the time I knew you had to put in to writing it and your course.
Best wishes,"

To read more of the wonderful comments other clients have sent me, go here.
So... What's The CATCH?
Well, there isn't one. My Healing Your Pets At Home DVD is completely free to you. However - I do ask that you cover the shipping and handling charge, of only $4.97.
My Personal Guarantee To You
I want to be sure you have the time to really go through the video, and really take the time to discover the value and make sure this is right for you and your pet, in a completely risk free way. So I'm giving you a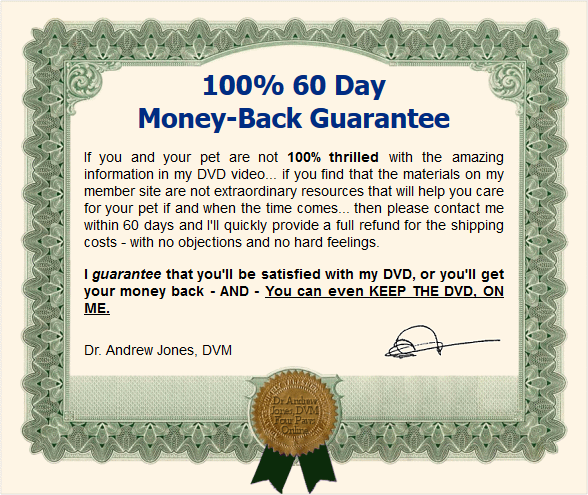 Yes - read that again: if you aren't satisfied, I'll refund 100% of your shipping cost, and you can KEEP the DVD.
Play on any DVD Player: this DVD is playable on any DVD player, or on your computer / laptop DVD drive.
The DVD also comes with the DOWNLOAD Version of the video as well! With your DVD order you'll get the download version of the video - so you can watch it on your iPad / Tablet / phone (works on any device)! You do not need to download the video, as you'll still be shipped the DVD - it is for your convenience only.
NEW OPTIONAL BONUS: Get 1 MONTH FREE in Dr. Jones' Inner Circle!
Click the box below to get a FREE MONTH in my Inner Circle Membership website, along with your DVD order. Here are some of the INCREDIBLE benefits you'll receive from joining my Inner Circle:
LIVE Natural Pet Health Coaching EVERY WEEK!
Every week you'll have exclusive access to my live group coaching sessions via Webstream.
In these live sessions, I will give you the latest, emerging natural remedies you need to finally solve your dog or cat's health problems at home. That includes what natural remedy really is working now, precise step by step instructions, what not to do, what to feed, what not to feed, covering all aspects of holistic veterinary care.


Plus, I will answer any specific questions you have

(which you will submit via our Livestream Question Form on the Inner Circle). And of course, every session is recorded so you get access to all replays, for as long as you remain a member.

DOG AND CAT FOOD - MY ADVISED COMMERCIAL BRANDS AND HOME RECIPES:

How to choose a quality commercial food, what my current Advised Commercial Pet Food Brands are, dozens of Veterinary Approved home recipes for both dogs and cats, how to feed Raw Food (including a video on how to prepare a raw diet), foods that are Hazardous to your dog or cat, diets for specific health conditions (including a Kidney Diet for Dogs, Cancer Diet for Dogs and Cats, and more)
ACCESS TO ALL 80 of my previously recorded Pet Health Demonstration & Discussion Videos, available to you immediately (Acupressure, Massage, Cancer, Arthritis, and MUCH more -

a total of 80+ separate demonstration and discussion videos

, plus audio reports and interviews)
Access to ALL of my current and past information in one place - my current YouTube Videos, Newsletters, Blog Posts and Podcasts.
Veterinary Secrets Revealed, Online Edition - easily search for the answers you need in the online book
Pet First Aid Secrets, Online Edition - my Pet First Aid Manual, online
Previously Recorded Webinars and Teleseminars on multiple pet health topics
Huge Database of Previously Answered Questions - find answers right away!
Site Wide Search - search the entire site easily, find what you are looking for quickly and easily
Articles - previously written articles on alternative as well as conventional veterinary care... over THREE HUNDRED articles on current pet health and behavior issues
Hundreds of pages of pet health care content (TOO MUCH TO LIST HERE)
After your first free month, the ongoing membership is only $9.97 per month, charged automatically to your credit card or PayPal account. And if you choose not to remain a member, you can cancel your membership anytime from within your account or by just sending us an email - and we'll cancel your membership right away, no hassles, no questions.
You are just
30 seconds away
from making one of the best investments you may ever make for your pet's health...
You know it's the right thing to do for your pet. And you have 60 Days to see if this information works for you (you can get your money back at any time within that 60 days!).
Obviously, there's no risk involved - only security and peace of mind. Click above to get your copy of the DVD today!
I look forward to hearing about your pet's improved health, happiness, and vitality!
To your pet's good health,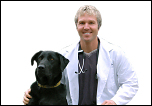 Dr. Andrew Jones, DVM
P.S. - I know that if you have read this far on the page, then you really are devoted to your pets and you want to give them the best possible care. My materials will allow you to give every available treatment option for your pet if they become sick. It also will help you prevent diseases so your pet is less likely to become ill and require veterinary care.
So why wait? Order now and you'll be prepared for whatever the future brings to you and your pet.
Click here to get your FREE DVD today!
P.P.S. - This DVD is FREE - You only have to pay the ridiculously low cost of only $4.97 to cover shipping and handling - ORDER TODAY!
Click here to get your DVD now
P.P.P.S. - I have a no-questions-asked 60 day Money Back Guarantee. I am a real Veterinarian (I am the previous owner of the Nelson Animal Hospital in BC, Canada), and I back up my product 100% - You will receive a full refund if you are not thrilled with the information. Remember that the DVD is yours to keep, no matter what.
Are You Ready to Order Dr. Jones' FREE DVD?